Favorite Links
Favorite Links
The following is a list useful links that I have compiled. If you wish to be added to this list, please send me an e-mail.
Favorite Sites
This is a great off road park and the site of the 2012 and 2013 Ram Jams.
This is my son and his family, Wes, Stacy, Jakob and Derek Yoakum. They are in Lima, Peru on a mission trip of 10 years or so.
Ramcharger.net is a friendly forum for all off road folk, although we do tend to cater toward Ramchargers and Mopar vehicles more than others. We are an active group, spending some time off the road. Join us.
James is a RCC member and his shop builds great trucks. His pics show several of our other members too.
This forum was started for Ramcharger owners. There are thousands of members, all over the world now. You don't even have to have a Dodge to be a member. There is lots of information and help available. We are sorta pointed toward 4x4 vehicles but we do have 2x guys and lots of diesel folk too.
Shiloh Ridge is at Alto, Texas. There are lots of trails, some rocks, lots of mud and some steep hills. They even have some sand dune type sand available on one hill side. RamchargerCentral.Com held their 2009 RamJam at Shiloh Ridge.
General Sam's is just north of Huntsville, Texas. A few of the RamchargerCentral.Com Texas guys have spent some time there this spring and summer. There are loads of trails, loads of mud and one steep hill. We like this place too.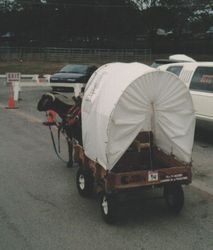 MORE
Gun stuff.
My son and his family in Lima, Peru.
There are five families from Texas working in Peru. This is their site.
My sister-in-law and her family. They are all artists. Some of there stuff is here.
Have Fun!